Archive for February, 2013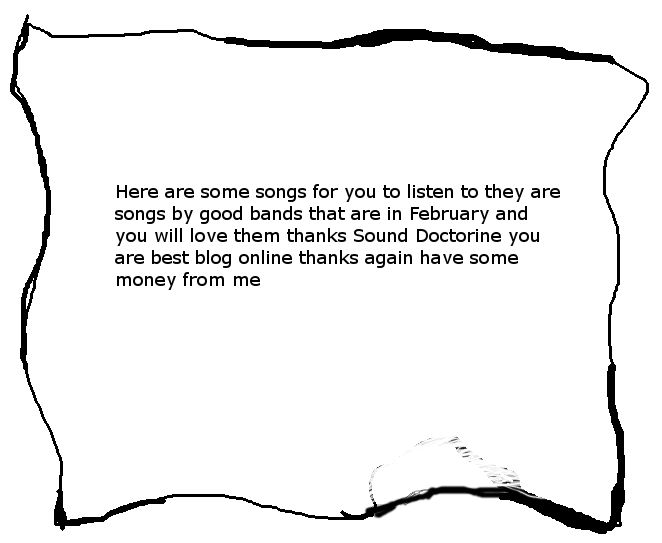 It's been a month (or somewhere near it) and frankly, I don't know where to start. The ever growing conglomerate of reputable australian musicians decided the best time to release new tunes was when my back was turned (dicks.) so I'm here now playing catch-up. That's ok though, because this isn't the first time I've been the underdog and come out on top. I can't think of any other specific examples where it's been the case but I'm on the spot so if you give me a few days I will think of them and get back to. I've spent the last month playing house over in Singapore and Malaysia and I've come back now with a fresh new wife (local, not imported) and a poppin' attitude, which I believe is a cool way to describe an attitude. I had to fight the overwhelming urge to call this post 'While You Were Sleeping [on these tracks]' but it didn't make a whole bunch of sense since I was in actuality, the one sleeping on these tracks, not you. But if I see that title turn up on another music blog I swear I'll haul your ass to court quicker than one of Judge Judy's plaintiffs. So, over the last month…
Sounddoc bestbuds Brothers Hand Mirror offered up a new tune which may be their most straight down the line hip-hop effort to date, which is to say it's still nothing like the contents of your "Hot Urban" playlist and a damn sight more interesting than most everything else. I'm still hanging out for that next Oscar Key Sung single but in the meantimes, this had me lounging. Which is a good thing, I'm pretty sure. A little lyrical gymnastics mid-track to keep the thing energetic and the glittering synths are front and center making this sound far thicker than much of their earlier output.
Last time BHM came to sydney (also known as the only time BHM came to Sydney) they were supported by Sydney's least musical musician, Simo Soo, who called BHM MC HTMLflowers (check that buffet of acronyms right!?) onstage to help perform the track you'll hear below these words. Obviously it's now in recorded format and though I'm not going to suggest you'll love it (or even like it), I've decided to include it so that you can sound like a top dog officianado when you tell your pal about the latest guest verses. His live set didn't get points on aesthetic but there was a whole stack of energy that I sure as hell couldn't have conjured up.
This one is a brand newie from a band I'd never heard of and a band with arguably the worst name I've ever seen. I don't know what possesses a band to name themselves after a mundane fact (or worse still, a personal joke) but the saving grace for this outfit is their music and if there's one thing I'll allow a band to fall back on, it's their music. For me, this lot are ticking the same boxes as bands like Gung Ho or Last Dinosaurs. I'm hoping that their live set is as polished as their recording(s) and I guess we'll find out soon enough. If so, it's game on for young and old. Download the track here.
Sydney's Sleepyhands have put up their first new track in what feels like years. It's called Dull Wine and it sounds even more Paradesy than their last track 'Smoke People' and that was very Paradesy indeed, which is a good thing because Parades are, you know, they're Parades. That said, the bands are of the same circles so I come into this already looking for similarities. I was under the impression that Sleepyhands were on hiatus, what with members of the band working on other projects (see Nantes and Sures) yet here we are, so let me say on behalf of this entire unconsenting readership "Sleepyhands, we've missed thee".
Bearhug popped a little something something online that would, as usual, sit nicely over a montage of surfing clips from the 90s and will apparently feature on an upcoming EP that'll be out in a couple of months. Their debut record Bill, Dance, Shiner came in at #6 in my end-of-year-best-of-list for 2012 which was, to be fair, just an arbitrarily numbered list of ten cracking releases so let's just call it one of the ten. These dudes can make a guitar wail with serious nonchalance and I dig that. So you should too.
And those are all the tracks that came out during the month of February. Nope, no need to check on that, just take my word for it.