There have been a few incarnations of my end of year extravaganzas but I think this one might be the newest best format yet. For a couple of years I compiled 'Best of 201x' lists that demonstrated just how far above the common man my tastes were. You knew it, I knew it, we both agreed it wouldn't be a big deal. The main reason I abandoned that structure was because I got craaaaazy laaaaaazy and so in 2013 I just asked a whole bunch of cool guy musicians to do my job for me (and they did!), picking their favourite tracks of the year. The secondary reason I abandoned it was because there's something problematic about a music blog like Sound Doctrine delivering you an attempted, objective end of year 'Best' list. My mission statement has always been to present you with the songs I like, not necessarily the best songs and sure, that's all part of a greater ven diagram but on a micro level I don't want to critically rank a series of records against each other when I know full well how shaped by emotional response those rankings are. Then you've got to ask yourself whether the ability to draw an emotional response is actually a valid criterion for a critical review. It probably is.
Welcome to the present! A time when that old 'Best Of' chestnut has been pulled down with ropes, a crumbling institution that had long since overstayed its welcome. It's time for change and I'm both the Obama and the Omega of this blog so let a new renassaince commence, a new period heralded by a glittering new title- THE 10 FAVOURITE RECORDS OF 2014
I started this December with aspirations of a full smorgasboard of lists. Songs of the year, Records of the year, Australian songs of the year, Australian records of the year. In the end, between making TEEF happen, full time work and a newborn, this is the best I've been able to come up with though there are for a certainty many other publications that have made those lists happen already so get your goog on if you really wanted to see those batches populated. Me? I'm a simple man. I can't imagine putting four lists on the table when there are people on the other side of the world with no food to eat. Hell, one list is about all that's appropriate at a time like this. I've aspired to make it good though – real good. I've aspired to make the best damn list 2014 ever did see. When the lists of 2014s Best Lists finally drops you can bet this one will be on it. Some really special records had to hit the cutting floor just so that this list could go on and live. Airling's EP was something that both yours truly and Triple J agreed upon and that doesn't happen all that often. Andras + Oscar's Cafe Romantica could really easily have been on here but it dropped at an unfortunate time of the year and I haven't listened to it sufficiently enough for it to have been impactful. Lucianblomkamp's Post-Nature LP gets a strong nod, a solid offering from Yes Please while the newly minted Solitaire Records delivered Good Morning's Shawcross EP which was a smooth ride indeed. Here's a special thought: The Ocean Party's Soft Focus would have undisputably been in the top 5 of this list if I'd have remembered when I was making it. I didn't though, and I'm not going to try to correct things because it's now 2015 and I'm not going to lift the lid on this again. WE'RE DONE. If that doesn't undermine the remaining shades of integrity of the list you're about to read then you're a very generous reader and I also have a very lovely business investment to talk to you about that definitely isn't a pyramid scheme. Finally, I've not included Hiatus Kaiyote's By Fire EP because even by my lax standards, three tracks does not maketh a proper release. Also, when they drop their next LP next year I imagine it'll be in for a fair shot at #1 in 2015 and I say that with as much confidence as I can about a record I haven't yet heard in full. Falling For You from the The Harpoons. And I'm done. Now for the actual list.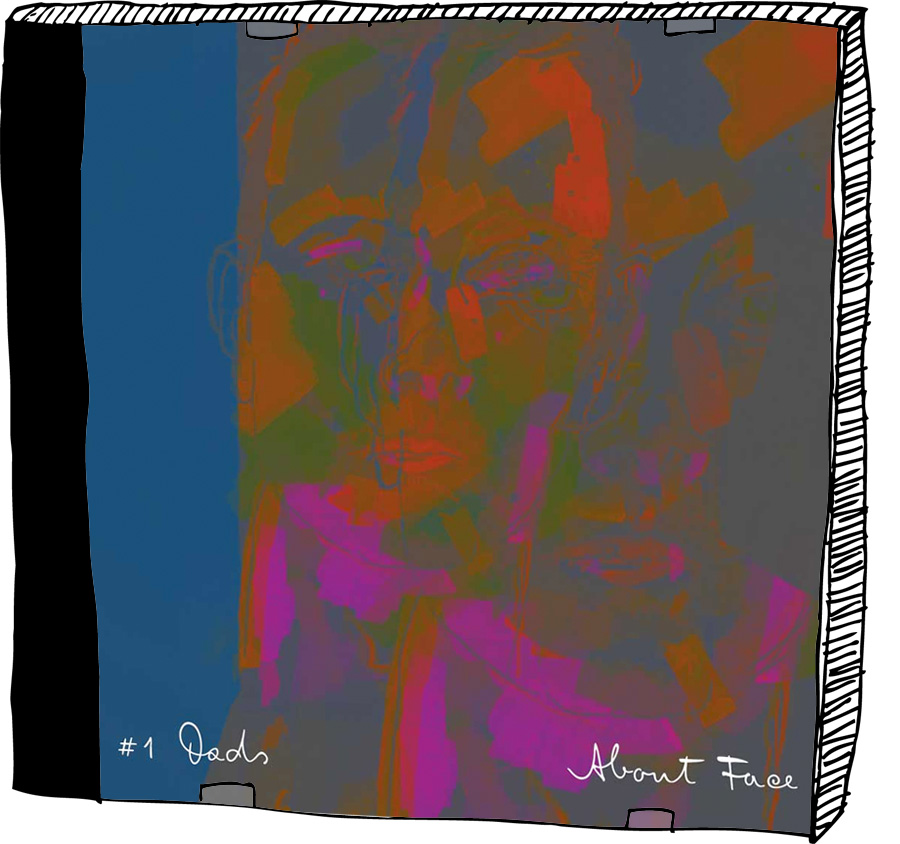 1. #1 Dads
About Face (LP)
As tempted as I am to review this record on the merits of its production, it's the songwriting that set it a cut above its peers this year. Clever choruses and grand chord changes were just two of the Eleven Objective Elements to Better Songwriting that are present in About Face. Look, let me just cut to the quick here. It's a bloody good record, full of excellent songs produced perfectly. It's probably a bit more inoffensive than some of the other fare on this list but good is good is good is good. #1 Dads is actually the recordig name of Big Scary's Tom Iansek who also scored bonus points this year, producing label mate Airling's EP which came in at #12 on this list (you'll have to trust me) and is worth a spin if you only heard a single or two on the Js this year. About Face was only one of a couple on this list that didn't have a standout single that I felt pulled to include as the stream. There are so many tracks that would have fairly represented the quality of this record. #1 Dads also [appropriately] soundtracked the year I became a #1 Dad and I'll probably always remember it for that alone. Already I can hear my critics gnashing their teeth- "Damn, that's a cheap shot, how do I argue against his annoying sentimental paternalism. I'm going back to Tone Deaf".

For those who have been following on with the "Sound Doctrine – Big Dreams Bigger Hearts" iOS app this year, you'll know that there were few bigger releases across my domestic calendar than Lower Spectrums six track EP Traces. I played it so many times that I must have contributed almost an entire dollar worth of Spotify royalties to Ned Beckley who in turned proved himself to be royalty in my spotify playlists. hah! geddit? You should listen to this EP because it is an incredibly engineered slice of electronica. Every string section and drum track is a well calculate choice and Beckley never loses his patience, only introducing elements when the preceding devices have spent their full value and a new loop is actually needed. For a record that stayed largely within the same sonic range, he somehow managed to make each of the six tracks convey a different meaning and sensation- Levity is a fast paced walk that explodes into a pedicured run. The piano driven Glimmer is a grand pianist sitting in an empty auditorium, pining, hurting. Cathedral is an extra-terrestrial landscape, punctuated by alien life. Hex is a drug addled sex romp through the dark alleys of Christopher Pyne's nether-brain. Wait, ignore that last one I was thinking of something else. Anyway, imma close this one off celebrating the drum programming on all these tracks which is best measured in horsepower and kilogram. The next Lower Spectrum release is going to break the internet in much the same way that the Kardashian anus did this year.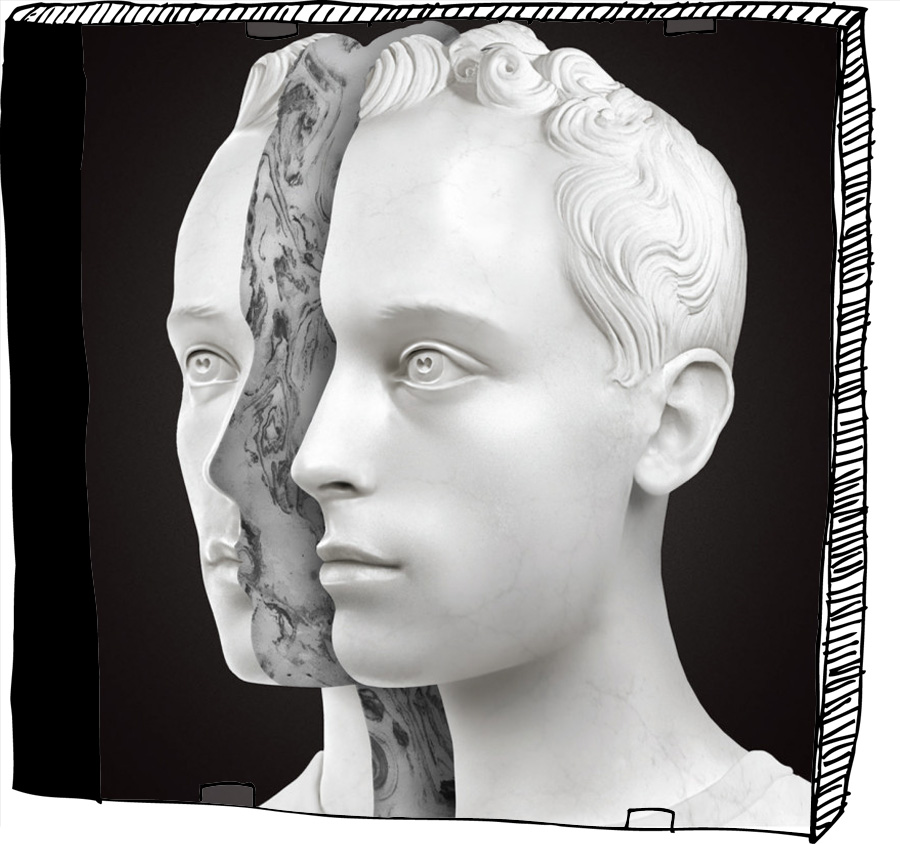 3. Oscar Key Sung
Holograms (EP)
First off, here's the obligatory disclosure statement that's becoming all too familiar now. I have a working relationship with Oscar and co and one time I even sent an email to a friend of a friend of his, but I got a bounceback so I don't know if I should mention that. I just want to play it 100% safe. We've lived with some of these singles for over a year now so this doesn't feel like the freshest choice but it's certainly a necessary inclusion in the list. This list. My list. The list you've all been waiting for. The release flows craftily between Oscar's most daceable, emotional, literal, abstract, honest and coy and is a concrete snapshot of his past twelve months, smartly put together so as to reveal a little something something different through each track. There's slow jams like Holograms and So Here and the four to the floor of All I Could Do injected the EP with some juice. It's Coming was the first cut from the EP to see the light of day and it's one of the few that retained moments of Oscar's faster lyrical delivery, reminiscent of his style on the O+M record. The pair of music videos that have dropped in tandem with the singles have been appropriately designed, scenes of mythological grandeur meshing with Oscar's typical futurism and the results are entirely cohesive. If the next release can build on this EP, then our boy is going to cash in on all those promises of stardom – that's a snod doc guarantee.

Surprise entry even for the guy who's curating this thing but this fulfilled the function of those lost Young Lagoon records, padding out the silences of my life with blissful warmth even as we beat our way through the hottest year on record despite global warming still being a myth or something I dunno. This EP is all heaving texture and gloriously thick bass drums and it's very, very pretty in its formless wash. Lonely Speck is not a characterless set of samples though, he's got a twitter presence that's fairly unique if often rather gloomy and introspective. I'm a bit stuck as to what else to say on this one other than 2015 needs to be the year he translates this EP into a live show. It didn't make the noise that I'd excepted it to but then it hasn't had long to breathe yet and again, there isn't much of a live element yet. 2015: year of the Speck.

Imagine sneaking a four tracker onto a list like this. That's a sly move from yours truly but it's four tracks that have had plenty of spins since their initial release in May. Actually just go ahead and hit play on the track below and try prentending that it isn't one of the sharpest things of the year. See what happens. Yep, your arms are now just a series of long strands of linguine. Combination of embarassing but fair, that sort of behaviour is always going to end in a pasta-related injury. Now I'm not going to sit here and play like I haven't gone and signed Anatole to my own label TEEF for his next release but after I after I heard this EP there wasn't really any other choice. I probably wouldn't be releasing his music if I didn't think it belonged in this list though would I? For making me explain that, your shins are now canneloni.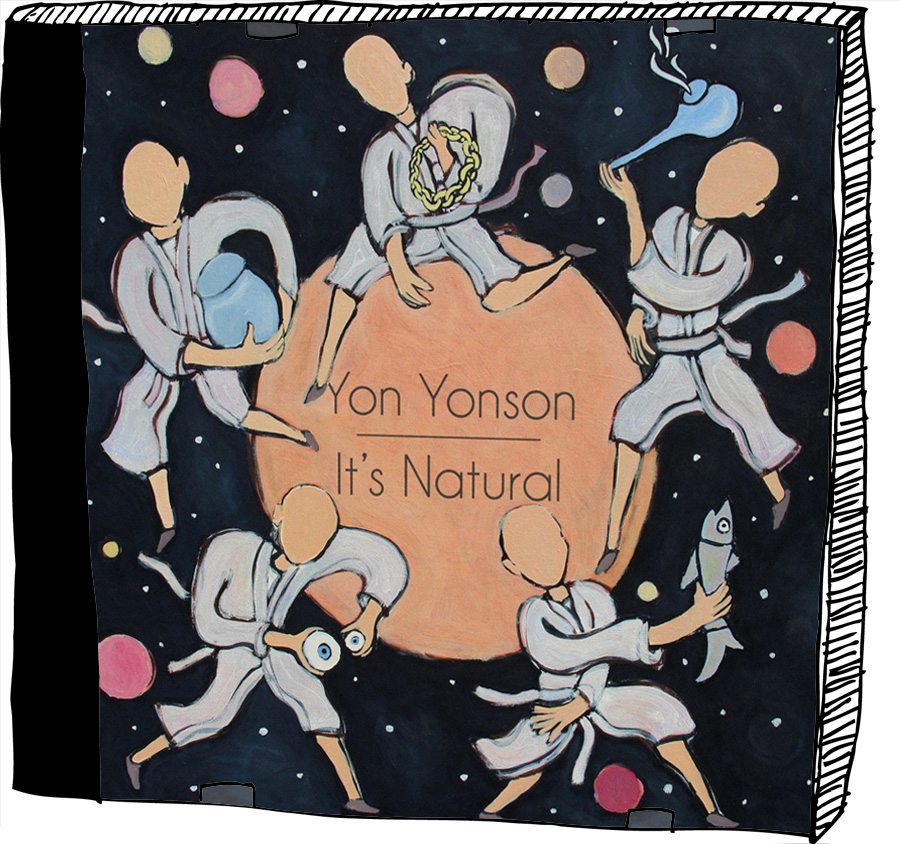 6. Yon Yonson
It's Natural (LP)
This Yon Yonson record made it into 2014 by a hair and a whisper, the band spontaneously deciding to track, mix and master the rest of their record after releasing their first two singles late in the year. Their 2013 mini-album Hypomantra landed at a similar time, tossed into the pre-Christmas mayhem which is par for the course for a band that have made a habit out of releasing records without preamble or fanfare. This one just turned up on Bandcamp one fair morning and then suddenly I was listening to one of the records of the year. An increased emphasis on production by virtue of touring producer Rick Skully joining Yon Yon full time has made the record sound just an ounce more polished. The self-aware songwriting and latent insecurities are residual from the last record but there's a brand new ambling psychedelia to this album that fuses with hip-hop beats to make something really rather different.

Firstly, to my great friends Seekae who are my close great friends who I am close with and who certainly wouldn't be mad at me ever, I'm sorry for streaming a song that isn't publicly released but I think we can all agree that this is a pretty decent promotional purpose if there's ever been one on Sound Diesel. The thing is, I just had to seek this track out because it's a stone cold merciless jam. It made for an interesting music industry moment when an artist that had made massive waves on two fairly cult records lined up for the big third record. Executive ears were perked, hype machine had preemptively cleared out top spot. Future Classic opened the cheque book. Then, instead of queuing up a more accessible response to the gathering hype, the trio shrugged and made the record that they absolutely should have made, caring not for increased exposure, radio potential or sales possibilities. They retained all their former creative integrity and made what is legitimately a very, very good album of out-there electronica. The track below, 'Further' is the straightest of the record but you just gotta hear it. The Worry is slammed with individually brilliant tracks from nose to boots and worthy of a physical purchase.

What do you get when you combine an exceptional pianist with some experimental ideas and nuanced production that ends in a great record? Wait, I did that wrong. An exceptional record is what you get when Luke Howard is a piano with experimental nuances from Melbourne. Bloody hell, forget it. Just pick out some key words from there and you'll get the gist. Luke Howard's Two & One is the follow up to last year's Sun, Cloud and is a work of extreme beauty and warmth. It's been fairly useful in soundtracking our holiday videos (sorry Luke, I'll mail a cheque) but is more than just ambient background sounds. It's designed as the sonic accompaniment to a photobook which you can purchase in tandem but as a record unto itself it stands up very, very well. How well? #8 well.

Cambio Sun is the production venture from Charlie Tait, once best known for his role in Sydney duo Lusinth, but no longer. He had a brace of singles on the net before he had a facebook which in 2014 is about as counter culture as not having a bank account. Actually a really great parallel in that both facebook and banks are institutional dicks. That's a thing he did though, and then after those first two singles he deigned to created that ever important social media space and dropped a 'mini-album' which I think is effectively just an elevated way of saying an EP. Plenty of strings, brass, finger slide heavy guitar and a voice for the ages. It's fairly album 2 Bon Iver but there was a time when even the top of the cultural foodchain would have seen that as high praise. I certainly mean it as such. He also seems to be a very good engineer, or has employed one because it's thick and sharp at all the right places, like a proper ARIA award.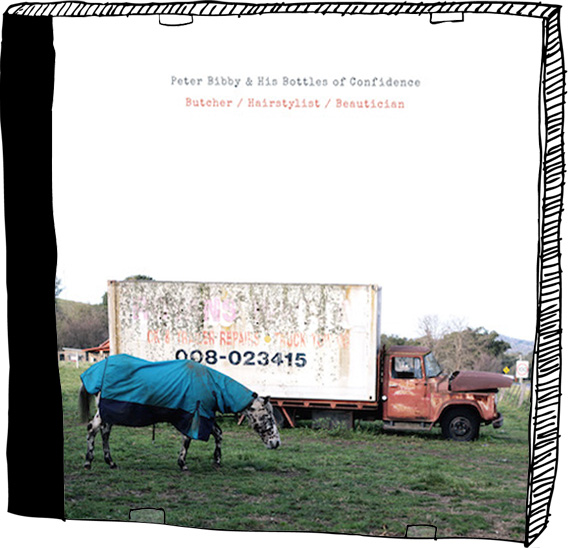 10. Peter Bibby
Butcher / Hairstylist / Beautician
You mostly just have to hear 'Hates My Boozin' to understand what you need to know about Bib City. Forthright storytelling that pulls no punches in terms of strength of content or the artist's desired perception. Is Bibby the villain in his own stories? Sometimes. That's sort of the charm though, there's no directed branding, just writing about things that have happened. He's part of the Spinning Top crew that's given birth to Tame Impala, Pond, GUM and so on, so the creative collective is strong but this is more of a stand alone node than one of the more communal works of the group. Bibby's folk tales are laced with more expletives than a Russell Brand response vlog but the charm is in the tone and the tenor. At times the swearing felt like a poetic crutch so here's hoping he dispenses with some of that before the next record. The man just wrote the songs because they were the songs he had in him – no intention, not purpose, just the songs. There's lots of finger picked folk jaunts with his rougher vocal juxtaposing the sweeter instrumental elements. The drums are always shallow and scaled back, simple to let the lyricism do its job.