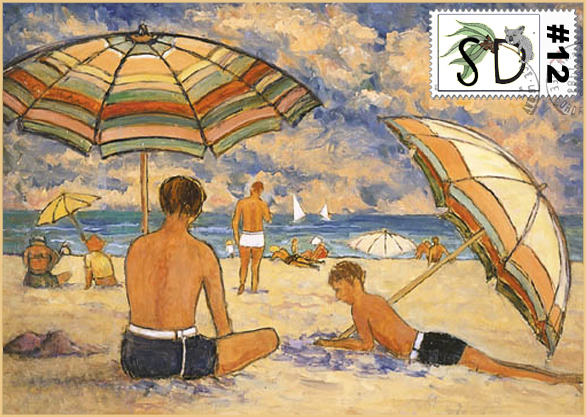 My monthly if-I-get-around-to-it Mixtape of exclusively Australian songs is called Postcards From Home and it usually lives on the Sound Doctrine facebook or over at the Tapes section of this blog but that's all about to change. I've made a decision to post each and every one of them right here on the blog and even though I don't have board's approval yet I'm confident it'll get through when I bring it up at the AGM in November. I can say for certain-like that this is a positive change that will result in increased financial growth and massive team synergy as well as at least (and indeed at most) one new post featuring a mixtape each month.
This very special October edition is the only one I'll be releasing this year during the month of October and showcases some crackers. Foreign/National cover the Harpoons, Leisure Suite live up to their name and Medium Punch collaborates for the second time with vocalist Matt On The Moon. Electronic pearls from Flash Forest, Super Magic Hats, River Yarra and HOWL run a perfect counterpoint to Peter Bibby and the Harry Heart Chrysalis. Blair De Milo gets a track on here after he nailed that UV Boi collaboration and Brighter Later rides tandem with Lower Spectrum on their first new track since 2013's The Wolves.
Some new signings in here to sit sweet on your palate in the form of Cabana whose first ever track is out through Pilerats Records. Similarly Spirit Faces has debuted his first track through Sydney record label TEEF, a company that people are already calling "merciless", "a lot of fun" and "a record label". Pretty cool right? Must have been started by one heck of a gnarly dude.