Archive for January, 2012
Today is your lucky day my friends because not only have I decided for brevity's sake to write this post without full stops or commas but the secret love of pseudo-pop that you'll never confess to having will be pleased to hear the first single from Patrick Watson's new release Adventures In Your Own Backyard: 'Into Giants' which reminds me of various acts I'll never admit listening to but has luckily been described as something like 70s Paul Simon with a bit of Sgt Pepper brass – works for me
Track below for your ears only
Patrick Watson – "Into Giants" by CHARTattack
And here's some former glory
A few months ago Kristian Mattson (aka The Tallest Man On Earth) and Amanda Bergman (aka Idiot Wind) signed on to write a series of songs for a Swedish film called Once A Year. This was obviously fantastic news as any word that Kristian Mattson is doing anything at all in relation to anything at all is cause to fist pump and mouth off to to those around you (a la Lleyton Hewitt circa 2001). Yesterday I heard part of the first of the seven songs that they've written for the film, this one featuring Mattson in the foreground while Bergman delivers backing vocals and my word, it's superb. If you thought Mattson's voice on it's own was a serious business, wait until you hear it entwined with Bergman's. Initially it didn't look as if a soundtrack would be released separately but director Gorki Glaser-Müller has since said that the songs have taken on a life of their own and could very well see a retail release. Nice one Gorki. The track you hear in the below film trailer is called 'Some Will Spare You'
This, on top of those tracks from The Oh Hello's (scroll down) should be enough to get you through over the Australia Day break. Hopefully it also satisfies any craving you may have had for a crunchy beat or a fluttery falsetto (or better still, the two in tandem) because it may well be the best thing I've heard this year. Real class from Oscar, of Oscar & Martin fame, who simply cannot put a foot wrong. All tracks downloadable. Also be sure to cop his tape beats here.
It's been a while since I posted something simple, quiet and folksy but those of you who know me will know that folk is where I came from and folk holds a special place in my near 25 year old heart. No cynicism today, just appreciating for these rambling, swelling songs which you can enjoy gratis via bandcamp. Don't think too hard about it, just listen and let the music speak for itself.
The Oh Hello's – 'Hello My Old Heart'
Audio clip: Adobe Flash Player (version 9 or above) is required to play this audio clip. Download the latest version here. You also need to have JavaScript enabled in your browser.
The Oh Hello's – 'Lay Me Down'
Audio clip: Adobe Flash Player (version 9 or above) is required to play this audio clip. Download the latest version here. You also need to have JavaScript enabled in your browser.
They say that there are only two things you can ever be sure of, and those are death and taxes. Today however, I propose a third, for I have a surefire, tried and tested method of discovering new music that does. not. fail. If I want to be certain of discovering several albums of quality, all I need do is post my 'Top 10 Albums' list in any given year and the moment I hit the 'Publish Post' button, I will instantaneously find out about multiple records that should have been on the list, effectively undermining what's already been chosen. This year, there were two records in particular that came to my attention immediately after posting 2011′s top 10.
The first of these was Who Kill by tUnE-yArDs which found itself victim of my scorn for all things hypem. The record is amazing but I never listened to a anything more than a ten second snippet as it seemed to be written and spoken about everywhere while noone actually seemed to be listening to it, which for me is usually a bad sign.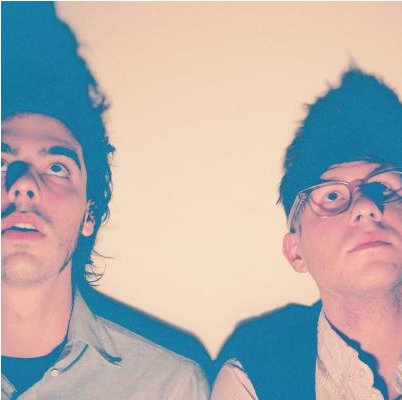 The songs you're about to listen to now are not those of tUnE-yArDs but the second of the two, a Colorado duo known as Gauntlet Hair. I heard these gents on Gorilla Vs Bear a while back and sort of liked what I heard, but for the most past I let those songs float back into the ether. I didn't realise they had a new record out until Katie Brown harped on about it late last year, putting it into her top 10 and placing their songs in my inbox.
I don't know how best to describe the record in that it's like nothing else I've heard. The Animal collective comparison that I'm so fond of drawing is relevant here again and there's obviously jangling reverb + echo effects coming out the eyeballs. Beats are so nicely rounded out that they have the effect of being muffled through walls, much like the sounds of the thunderous bass within a club being listened to from without. I've chosen two of the "bigger" tracks on the record, both of which would breath well at festivals I'd imagine. You never know, we might see them out here for next year's Laneway. They might not immediately feel it, but both songs benefit from some real volume. Turn it up.
Gauntlet Hair – 'Keep Time'
Audio clip: Adobe Flash Player (version 9 or above) is required to play this audio clip. Download the latest version here. You also need to have JavaScript enabled in your browser.
Gauntlet Hair – 'Mop It Up'
Audio clip: Adobe Flash Player (version 9 or above) is required to play this audio clip. Download the latest version here. You also need to have JavaScript enabled in your browser.
Just so you know what's what, here's a track from the tUnE-yArDs album that I mentioned way up there.
tUnE-yArDs – 'Bizness'
Audio clip: Adobe Flash Player (version 9 or above) is required to play this audio clip. Download the latest version here. You also need to have JavaScript enabled in your browser.