Graceland
The below is something I wrote for Cool Accidents, which is another, more reputable blog than my own.
In 1986, Paul Simon released Graceland, arguably the most important album of his career. Sure, Sound of Silence broke Simon & Garfunkel and Bridge Over Troubled Water sold 400 trillion units but Graceland was the record that demonstrated Simon as a musician capable of producing great songs in the absence of Art Garfunkel. Graceland was also famous for the scrutiny that Simon faced by virtue of his collaboration with South African musicians and recording in South Africa. Many believed that Simon had breached the UN imposed cultural boycott of all things Saffer but the UN soon delivered their official ruling that Simon "was a cool-guy and everyone else should just chill hey".
Graceland won a Grammy for Album Of The Year while the track of the same name won Record Of The Year, and it's that track that's the basis for this post. 'Graceland' (track, not album) supposedly deals with Simon's recent divorce and a cathartic roadtrip with his son to Elvis' Graceland in Tenessee in the wake of the failed marriage. The verses are deep with heavy, downcast lyric ("She comes back to tell me she's gone. As If I didn't know that. As if I didn't know my own bed.") but the hope in the chorus is so inescapable that one can't help but see the movement toward Graceland as redeeming pilgrimage. Anyway, speculative wankery aside, the track is unreal. Even if you don't take the time to listen to the strangely diverse collection of covers below, at least revisit this classic track. Simon called it the best song he has ever written. 2011 is the 25th anniversary of the record so if you don't already own it, maybe it's time you took a good long look at yourself and thought about the way you're living your life. Get it together.
Paul Simon – 'Graceland'
Audio clip: Adobe Flash Player (version 9 or above) is required to play this audio clip. Download the latest version here. You also need to have JavaScript enabled in your browser.
Grizzly Bear – 'Graceland'
Audio clip: Adobe Flash Player (version 9 or above) is required to play this audio clip. Download the latest version here. You also need to have JavaScript enabled in your browser.
Casiotone for the Painfully Unknown – 'Graceland'
Audio clip: Adobe Flash Player (version 9 or above) is required to play this audio clip. Download the latest version here. You also need to have JavaScript enabled in your browser.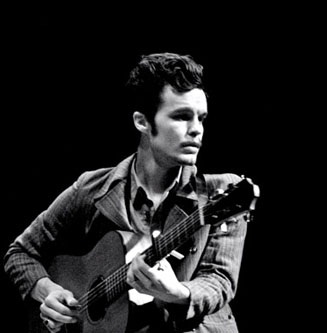 The Tallest Man on Earth – 'Graceland'
Audio clip: Adobe Flash Player (version 9 or above) is required to play this audio clip. Download the latest version here. You also need to have JavaScript enabled in your browser.
Hot Chip – 'Graceland'
Audio clip: Adobe Flash Player (version 9 or above) is required to play this audio clip. Download the latest version here. You also need to have JavaScript enabled in your browser.